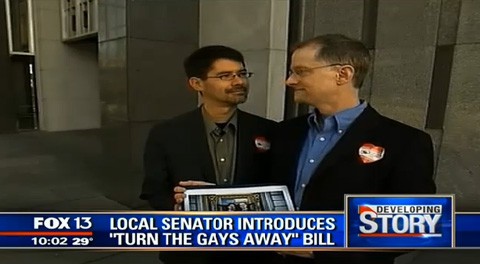 GOP state Senator Brian Kelsey (pictured, below) has introduced a bill in Tennessee, similar to ones being floated in several other states, that would allow religious-based discrimination against gays, FOX13 reports:
The bill notes that businesses can refuse services and goods only if it furthers a civil union, domestic partnership, or same-sex marriage. The person or business would just have to say it was against their religion. For example, if a same-sex couple wanted a cake for their wedding reception, a bakery could refuse to cater to them.

Jonathan Cole of the Tennessee Equality Project says the bill is making discrimination legal.

"It's bad for business," Cole said. "It's bad for attracting talent that would be offered a job to come and work for a corporation here in Tennessee. When they see bills like this capturing the headlines, it really reflects poorly on the state."
Watch FOX13's report, AFTER THE JUMP...
A Memphis restaurant is reacting to the bills introduction with a fundraiser to unseat Kelsey:
This morning, Restaurant Iris and Second Line owner/chef Kelly English made an offer that anyone with political ambitions in Germantown's District 31 might not be able to refuse. English posted that he'll host a political fund-raiser for whoever opposes Senator Brian Kelsey of Germantown in the next election.