On January 30, Senators Brian Schatz (D-HI) and Kirsten Gillibrand (D-NY) introduced legislation mirroring that introduced by Reps. Charles Rangel (D-NY) and Mark Pocan (D-WI) last June which would upgrade the service records of LGBT troops discharged for sexual orientation and open the door to veterans benefits, the Stars and Stripes reports: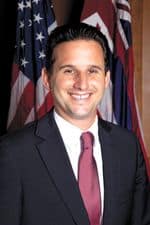 "The repeal of 'Don't Ask, Don't Tell' was a watershed moment, ending institutionalized discrimination that unjustly targeted gay and lesbian members of the military," Schatz (pictured) said in a statement from his office. "Yet thousands of former service members still bear the scars of that discrimination, with their military records tarnished with discharges other than honorable and marks on their records that compromise their right to privacy.
"Many of these brave men and women that served our country are currently barred from benefits that they earned and are entitled to, and in the most egregious cases they are prevented from legally calling themselves a veteran. This needs to be corrected now."
Roughly 114,000 servicemembers were discharged because of sexual orientation between World War II and the repeal of "don't ask, don't tell" in September 2011, officials have stated. Many of these servicemembers, depending on the discharge classification and the state in which they lived, were treated as felons and precluded from voting and collecting unemployment and veterans' benefits, such as health care and disability. Many were also discriminated against when applying for jobs and housing.
The House bill has bipartisan support from 140 members but has not moved forward as of yet.