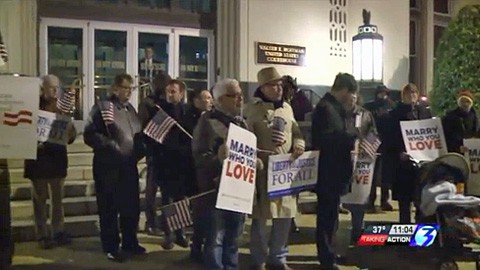 Dozens gathered outside the Norfolk, Virginia federal court house on Monday to rally before the first hearing today in Bostic v. Rainey, one of two cases challenging the state's ban on gay marriage.
Prop 8. American Foundation for Equal Rights lawyers Ted Olson and David Boies have been brought in to lead the case, and the hearing begins at 10 am.
Watch WTKR's report on the rally, AFTER THE JUMP....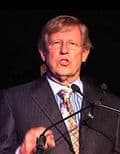 Olson spoke to the NYT about the case:
"The reason we were brought in," he said, "was the people in California who first contacted us were very concerned that lawyers would bring a challenge to Prop 8 that didn't know how to take a case all the way to the Supreme Court — how to prepare it, how to build a foundation, how to present it, how to articulate the arguments."

"It is impossible," he added, "to overstate how important it is, and how meticulously handled it must be in order to ensure the best outcome."
In related news, the Virginia House overwhelmingly approved a bill on Monday allowing lawmakers to hire their own lawyers to defend state laws (like the gay marriage ban) if the attorney general will not (in this case, AG Mark Herring has said he won't).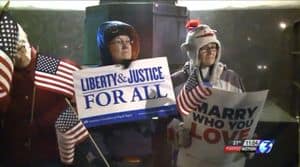 The WaPo reports:
The Republican-dominated House voted 65-32 for the legislation, which would give the General Assembly the right to intervene in lawsuits challenging Virginia laws or the state Constitution if the attorney general opts not to do so...
...The vote fell mostly along party lines, with Democrat Del. Johnny S. Joannou (Portsmouth) joining Republicans to support the bill and Republican Thomas Davis Rust (Fairfax) voting against. There were two abstentions: Robert Dickinson Orrock Sr. (R-Caroline) and Barry D. Knight (R-Virginia Beach).

The bill now moves to the Senate, where Democrats are expected to kill it.
Watch WTKR's report on the rally, AFTER THE JUMP....