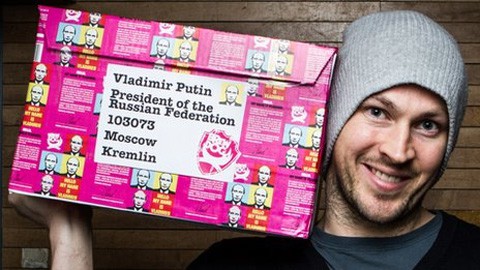 The Scottish BrewDog brewery has sent a case of 'protest beer' which mocks Russia's ban on 'gay propaganda' to President Vladimir Putin, the BBC reports:
Hello My Name is Vladimir has been made by Aberdeenshire-based BrewDog. The company said half the profits from the sales of the beer would be donated to charities that "represent oppressed minorities around the world".
BrewDog co-founder James Watt said: "As Hello My Name is Vladimir is clearly marked 'not for gays' we should bypass the legislation outlawing supposed 'homosexual propaganda'."
The company has sent a case of the beer to President Putin, who is depicted wearing make-up on the bottles.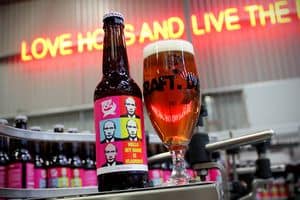 Writes the company in a post on its blog:
Hello, my name is Vladimir. I am a beer for uber hetero men who ride horses while topless and carrying knives. I am a beer to mark the 2014 Winter Olympics. But I am not for gays. Love wrestling burly men on the Judo mat or fishing in your Speedos? Then this is the beer for you!
The sick, twisted legislation brought about in Russia that prevents people from living their true lives is something we didn't want to just sit back and not have an opinion on. Our core beliefs are freedom of expression, freedom of speech and a dogged (no pun intended) passion for doing what we love. Thus, we are donating 50% of the profits from this beer to charitable organisations that support like minded individuals wishing to express themselves freely without prejudice.
This beer is a double IPA brewed with Limonnik berries. We heard they're great for improving sexual performance, so we've sent a case to the Kremlin as we suspect there is someone there who would appreciate a little helping hand.
You can pick up some beer HERE.