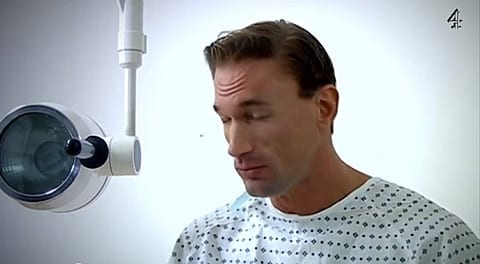 On a UK Channel 4 tabloid-style show being broadcast tonight, Dr. Christian Jessen visits some mostly U.S.-based quack therapists who offer harmful gay 'reparative therapy' to ask them to (the show's title) Cure Me, I'm Gay.
The Telegraph writes:
The names of the treatments are appalling enough: aversion therapy (offered on the NHS well into the Eighties); gay rehab; reparative therapy; deliverance. And if he understandably doesn't try them all, his enquiries strike a neat balance between laughing at the absurdity of the theories and highlighting how dangerous they are when levelled at vulnerable people. As he points out, therapy is usually intended to build up self-esteem, rather than shatter it.
But Jessen is no journalist, and finds it hard to maintain an emotional distance as brainwashed teenagers inform him that homosexuality is caused by demons. There's also a feeling that he lets his quarries off the hook: while unmasking arrant nonsense is easy enough, he doesn't really challenge, or engage, with their arguments face to face.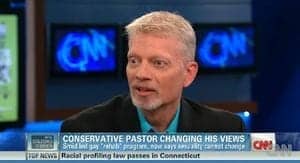 Several of the "doctors" he visits with may be familiar to Towleroad readers. One in particular, Dr. John Smid, ran the Love in Action ministry for gay 'reparative therapy' in Tennessee. Smid came out of the closet in 2011 and now says gays cannot change their sexuality, and has since retired.
So, who knows what approach Smid is taking to this program - if he's recommending his old nonsense for the fee that Channel 4 is paying him — because according to media reports he tells Jessen on the program that if he wants to cure his gayness he should stop listening to Adele:
Retired doctor John Smid from Texas offers rehab and orders him to strip his life of things that encourage him to be gay. He throws out Jessen's Adele CD and tells him: "Adele is very popular within the gay community. You have to listen to Christian music."

Smid also makes him bin his tight undies claiming they will "stir his sensuality" and make him want sex.
Looks like Richard Cohen also makes an appearance. Wonder if he'll do any pillow beating?
Watch a preview of the show, AFTER THE JUMP...