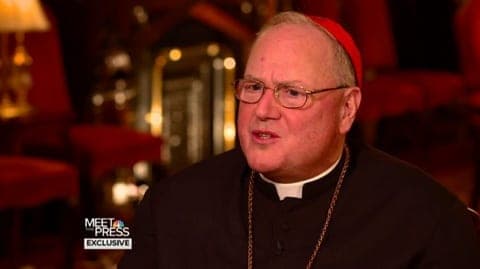 NYC Cardinal Timothy Dolan appears on Meet the Press tomorrow and will talk about the church's sexual abuse scandal, and also gay football players.
Dolan, who claims to not be "anti-anybody", has equated same-sex marriage to incest, denied LGBT Catholics entry to mass, and insisted LGBT individuals are entitled to friendship, not marriage. Last year he vehemently opposed same-sex marriage legislation in New York state, calling it a "communist threat" and has since complained that he felt burned by lawmakers. In May Dolan issued a memo to LGBT Catholics urging them to "pray, fast, and sacrifice" over the Supreme Court's upcoming decisions on marriage.
But Dolan is happy for out NFL-hopeful Michael Sam
"The same Bible that tells us, that teaches us, well about the virtues of chastity and the virtue of fidelity and marriage also tells us not to judge people," Dolan said. "So I would say, 'Bravo.'"
Watch a preview clip, AFTER THE JUMP...