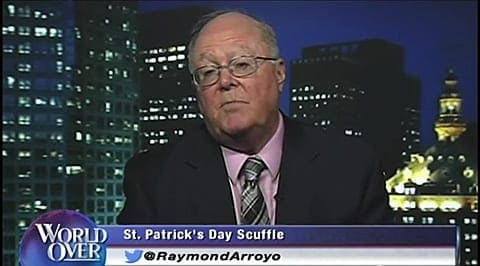 Last night we reported that Catholic League mouthpiece Bill Donohue had applied to march in NYC's LGBT Pride parade carrying a "Straight is Great" banner in a challenge to its inclusiveness following controversy over gay exclusion from the St. Patrick's Day parade.
NYC Pride has responded, it tells Towleroad:
In response to email communications from Bill Donohue, President of the Catholic League, NYC Pride representatives provided instructions for the March's online registration system.
"Mr. Donohue and his group are free to participate in the 2014 March. His group's presence affirms the need for this year's Pride theme, 'We Have Won When We're One.' Straight is great – as long as there's no hate," said David Studinski, March Director of NYC Pride.
Chris Frederick, Managing Director of NYC Pride, added, "Straight allies are great. We have thousands of straight people participating in the Pride March, including Catholic groups, who support LGBT youth, families and married couples."
GLAAD's Commentator Accountability Project provided background information on Bill Donohue's recent statements on LGBT people. On February 27, 2014, Donohue gave a video interview with World Over with Raymond Arroyo in which he stated, "If I wanted to get into their gay pride parade with my own float with big banners saying 'straight is great,' they would have a right to feel put-upon and I wouldn't do that to them."
Watch (quote is at 12:30), AFTER THE JUMP...