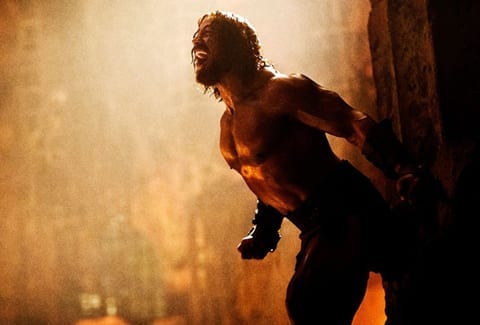 You may recall that Kellan Lutz is not the only hunk playing Hercules on the big screen. We just got some new steamy stills of Dwayne "The Rock" Johnson playing the legendary hero in Hercules: The Thracian Wars (out July 25) —  41 has never looked so good.
Producer Beau Flynn commented, "It's incredible, he's up every morning at 3:45 right on the treadmill, then it was right to the gym for hours. And then it was to the makeup chair, then shooting all day in the heat. And repeat that for 90 days." Phew!
See another still AFTER THE JUMP...
Regarding his role, Johnson said, " "I was actually yelling with all the power I could muster, 'I am Hercules!' I gave it my all and made myself pass out every time we did it. But I honestly felt in that moment that I was born to play this role."