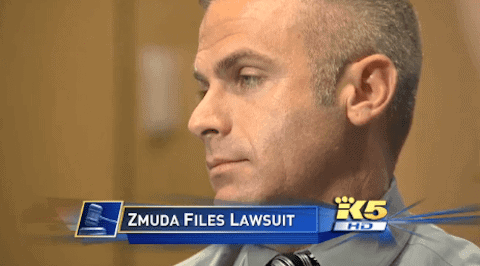 Late last year Eastside Catholic High School vice principal Mark Zmuda was given a choice: divorce his husband or be fired. Zmuda refused to sacrifice his marriage for his job and was let go. Rather than being some incident kept quiet and swept under the rug, students and faculty of ECH loudly protested the unjust treatment, protests which kept going even into the new year and ultimately drove the school president Sister Mary Tracy to resign.
The school's problems with the incident are far from over as Zmuda is now filing a lawsuit against the school and the Seattle Archdiocese for discrimination and wrongful termination. The Archdiocese has already drafted a motion for dismissal, claiming that Zmuda knew his marriage - much like the divorce, which Jesus condemns in Matthew 19:3-6, that they tried to force him to get - went against the teachings of the church. However, prior to Zmuda's termination the ECH website stated explicitly that (bolding mine),
Eastside Catholic School does not discriminate on the basis of an employee's or applicant's race, religion, creed, color, sex, age, national origin, disability, marital status, sexual orientation or any other status or condition protected by local, state or federal law.
The statement has since been removed from the school's live website, but everything lives forever on the internet.
The lawsuit was filed today, and you can see King 5's news report on the story
AFTER THE JUMP...