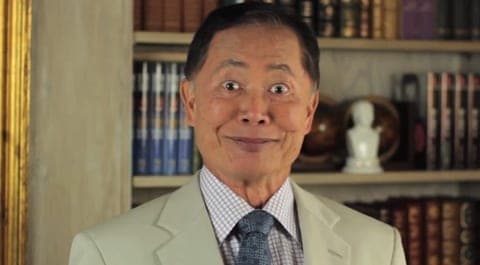 George Takei has become such a prominent LGBT figure in popular culture, it's easy to forget he's only been out since 2005. Best known for his iconic portrayal of Mr. Sulu on Star Trek, Takei has re-established himself as a vocal LGBT advocate, affable comedian and beloved curator of webjunk.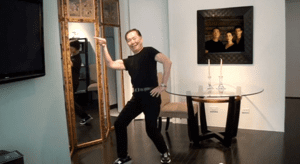 In addition to his work on the seminal sci-fi series, Takei is a cultural institution. He's appeared on Heroes, Celebrity Apprentice and even has an asteroid named after him. He's been a regular voice on Howard Stern's show on Sirius XM Radio, winning over listeners with his honesty, openness and humor.
It's not all fun and games. Takei lived in Japanese-American internment camps from ages four to eight, and has been actively involved in politics since the '70s. (He even ran for Los Angeles City Council in 1973.) As one of the most recognizable people (with one of the most recognizable voices) in popular culture, Takei has used his celebrity to champion a variety of LGBT causes.
Learn more about Takei's contributions, relive some of our favorite Takei memories and share your own, AFTER THE JUMP …
After beginning his acting career in the late 1950s, Takei landed what would become his defining role as Hikaru Sulu when Star Trek debuted in 1966. In addition to the television series, Takei appeared in the first six Star Trek movies. He also reprised the role on Star Trek: Voyager in 1996 for the 30th anniversary of Star Trek. In the clip above, a shirtless Sulu is convinced he's a swashbuckler.
In October 2005, Takei told Frontiers magazine that he's been in a relationship with his business manager Brad Altman for 18 years. The pair were the first to apply for a marriage license in West Hollywood, California in 2008. Takei's Star Trek co-stars Walter Koenig and Nichelle Nichols served as best man and matron of honor, respectively, when the couple married that September. Takei also appeared in Dustin Lance Black's play 8 about Proposition 8 alongside stars like George Clooney, Jamie Lee Curtis and Martin Sheen. 
Since coming out, Takei has become an active supporter for a variety of LGBT issues. Applying his signature sense of humor, Takei has spoken out for gay marriage, encouraged a boycott of Arizona and railed against Tennessee's 'Don't Say Gay" bill. He's also gotten serious, eviscerating Tennessee lawmakers in a fireside chat and attempting to convince the IOC to move the recently completed Olympics out of Sochi. Equality Forum named him one of their LGBT Icons in 2013.
In recent years, Takei has become well known for his web presence, particularly on Facebook. His page has more than 6 million likes, featuring lots of humorous images and videos about politics, LGBT culture and the sci-fi community. He's also appeared in several viral videos, including a gay version of The Bachelor and a parody of a PSA from the National Organization for Marriage, above.
Takei and Altman were profiled in the short documentary George & Brad In Bed, above. Takei is the subject of a full-length doc, To Be Takei, which was an official Sundance selection earlier this year.
Are you one of Takei's more than 6 million followers? What's been your favorite Takei moment?