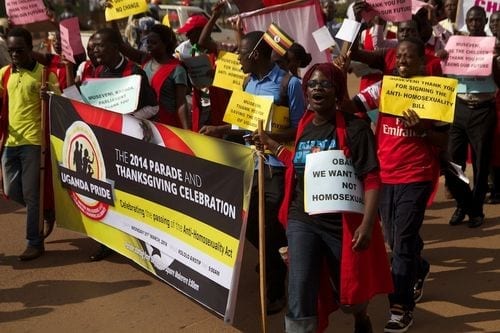 Hundreds of government officials, religious leaders, and Ugandan citizens took part in a disturbing, five-hour ceremony in Kampala on Monday to celebrate the country's recently enacted 'Anti-Homosexuality Law.'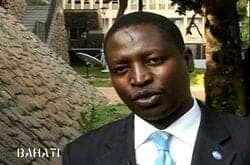 Speakers paid tribute to President Yoweri Museveni, the official guest of honor, and linked Uganda's fight against homosexuality with shedding its colonial past in an event that had the feeling of a campaign rally.
"Today, we come here again [to celebrate] sovereignty and freedom … [and] to take charge of our destiny," said David Bahati, the lawmaker who sponsored the bill, noting that the event was taking place at the Kololo Independence Grounds, the parade grounds where Ugandan independence was granted in 1962. "The citizens of Uganda are with you, Mr. President. The religious and cultural leaders are with you, Mr. President. The members of parliament and the nation is behind you."
The event, called the "National Thanksgiving Service Celebrating the Passing of the Anti-Homosexuality Bill," was organized by the Inter-Religious Council of Uganda (IRCU), an umbrella organization of the country's major denominations, and other groups that had supported the bill, which punishes homosexuality with up to life in prison and essentially bans LGBT advocacy.
Watch footage from the rally, AFTER THE JUMP...
Speakers praised the "courage" of President Museveni to sign the law despite widespread international backlash. Religious leaders also called for a publicly-funded trust to compensate for any loss in foreign aid.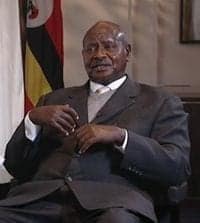 Museveni, who supported the idea of a fund, drew laughs while arguing how unnatural gay sex is:
"The sexual organs of human beings are highly specialized," he said. "Because that part is not for that purpose, it creates very unhealthy repercussions … the intestines come out — this is terrible!"
"There are other terrible things," he warned. "Oral sex is an idiocy … The mouth is for eating."
He also vowed to uphold the law despite outside pressure, saying "I am now mobilized to fight this war."
In other news, a gay teen in Uganda attempted suicide earlier this month by overdosing on pills and swallowing rat poison. At least 17 gay Ugandans have reportedly attempted to kill themselves following the country's passage of its anti-gay law. 
[photo via J. Lester Feder/BuzzFeed]