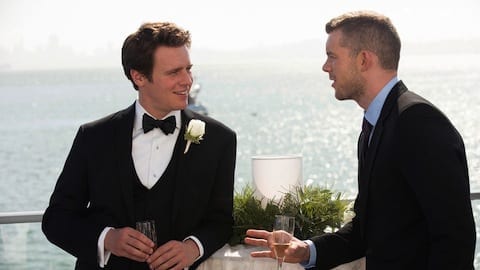 In case you missed the news, despite the initial low ratings, Looking has been renewed for a second season. The announcement comes on the heels of ratings increases and creative peaks for the series. The show's slow start rubbed some viewers (including me) the wrong way, but since the brilliant fifth episode, Looking has been on an upswing.
More exciting than just the idea of more episodes is the promise of more screen time with Raúl Castillo's Richie, Lauren Weedman's Doris and Russell Tovey's Kevin. All three have been promoted to series regulars for next season. They've added some much needed charm (and humor) to the cast, and, when the core trio skirts the edges of insufferableness they've kept the show from becoming too serious. I'm eager to see their roles expand, particularly the consistently hilarious Doris.
Tonight's episode was another strong showing. Discuss what worked (and what didn't) AFTER THE JUMP ...
[SPOILERS]
If last week's episode was about getting what you think you want, this week forced our core trio to confront their challenges without their partners. After admitting he's been paying C.J. (T.J. Linnard), Agustín (Frankie J. Alvarez) now has to face his unemployment and lack of artistic fulfillment without his boyfriend (O.T. Fagbenle). Dom (Murray Bartlett) chased Lynn (Scott Bakula) away prepping for his pop-up restaurant. And then there's Patrick (Jonathan Groff), who faced the wedding he's been dreading without Richie.
Speaking of Patrick, there's something about his relationship with his mother that I think could strike a chord with many gay men. Yes, there's all the WASP-y nonsense about the grass and the cake pops, but the scene with the two of them outside illustrated a broader dynamic. We've seen the sad coming out story many times before, but what's interesting here is what happens years after that. She's excited to meet Richie, but she still calls him Patrick's "friend." She clearly didn't handle things in an optimal fashion, but she's also not the bogeyman Patrick still sees her as. (That couldn't be more clear than when his mother pulled out a pot treat just hours after Patrick fought with Richie for bringing marijuana to the wedding.) There's a struggle to forgive and forget that's hard for even the best-intentioned parents and children.
I'm no longer sure if I'm rooting for Patrick to end up with Richie or Kevin. On the one hand, Patrick finding happiness with Richie would be a huge step forward for the character's growth. (Plus, Richie is adorable.) However, you could argue that Patrick choosing Kevin because he wants him (and not because he's trying to please his mother) would also be satisfying. (Plus, Kevin is adorable.) I'm so torn!
Agustín's intentions are even less clear. While we know he's uncomfortable with this whole domesticated, Oakland lifestyle, we don't know what it is that he's after. He talks about his art, but doesn't seem to enjoy creating it or participating in that world. As much as his boyfriend seems like a saint, I think Agustín will be a much more interesting character when we get to learn more about him outside of his relationship dynamics.
This episode felt more like a set-up for next week's finale when it comes to Dom's storyline. The most telling scene was with Dom and Lynn outside the restaurant. Even though he's obsessed with aging, Dom still sees himself as a teenager struggling to assert his independence. It's not cute, and it might end up killing his restaurateur dreams.
Some of my favorite moments tonight were the simple wedding scenes. Watching Patrick during the father-of-the-bride speech, when his brother-in-law removed his sister's garter or even as the crowd shimmied awkwardly to "Love Shack," nicely illustrated the sort of alien feeling many LGBT people feel in these situations. It's a theme Andrew Haigh's Weekend also played with a bit (during the scenes when Tom Cullen's Russell visits his friend Jamie). Yes, some people can effortlessly feel a part of these situations, but there are lots of LGBT folk who can't shake that undercurrent of otherness that colors even the most joyous celebration.
Are you excited for a second season of Looking? What do you think is going to happen in next week's finale?