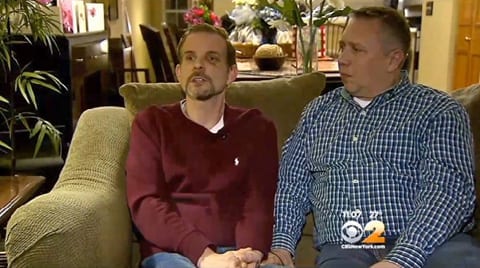 As Towleroad reported yesterday, J.P. Masterson and his partner Peter Moore had been celebrating their 10th anniversary when they were attacked by a man on the W. 4th Street subway station in Greenwich Village early Sunday morning.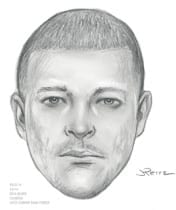 "I f--king hate faggots," is what the suspect, believed to be about 5'8", 170 pounds, and in his late 20's, said to the couple before striking Masterson and pushing him toward the tracks, they say.
Masterson added that he was very disappointed that when the attack happened, no one on the crowded subway platform called police or did anything. There were about 50 people on the platform at the time, he said.
"I want my New Yorkers to step up and help me out, because, you know, at the end of the day, we're all just people," he said.
But as he waited to undergo surgery, Masterson vowed that he is bruised, but not broken. "You might beat me down, and I might look real grotesque right now, but I'm still standing," he said.
Masterson and Moore speak with CBS New York, AFTER THE JUMP...