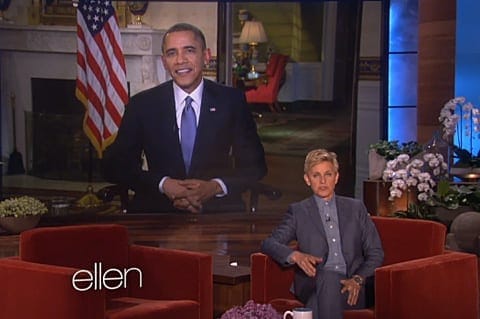 President Obama beamed into Ellen for an interview, presumably as part of the Affordable Care Act marketing push as they focus on it at the end of the interview, but they also get a chance to talk about tattoos, minimum wage, going to the Gap, as well as House of Cards and Scandal.
Said Obama: "You know, I watch House of Cards. I haven't seen Scandal yet, but Michelle has watched Scandal. I have to tell you, life in Washington is a little more boring than displayed on the screen...You know the truth of the matter is, if you followed me, most of my day is sitting in a room listening to a bunch of folks in grey suits talking about a whole bunch of stuff that wouldn't make very good television."
Ellen also boasts about breaking his retweet record with her Oscar selfie, which the President calls a "cheap stunt."
Watch, AFTER THE JUMP...