President Obama today announced sanctions on certain Russian officials over its action in Ukraine. Among them is Yelena Mizulina, author of the ban on 'gay propaganda'.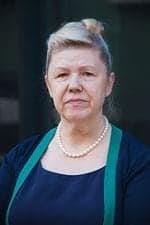 President Obama signed an executive order freezing the assets and banning visas for a number of Russians deemed to be responsible for the seizing of Crimea or otherwise interfering in Ukrainian sovereignty. Among those targeted were several officials in President Vladimir V. Putin's inner circle, and the White House threatened to go after more if Russia did not back down....
...Among those targeted were Vladislav Surkov, one of Mr. Putin's most influential advisers, known as the Kremlin's "gray cardinal"; Sergei Glazyev, an economist who has been advising Mr. Putin on Ukraine; Valentina Matviyenko, chairman of the Federation Council, the upper house of Parliament; and Dmitry Rogozin, a deputy prime minister. No sanctions were placed on Mr. Putin.

Others named by the White House were Leonid Slutsky and Yelena Mizulina, members of the State Duma, the lower house of Parliament; and Andrey Klishas, a member of the Federation Council who wrote a bill to seize assets of Western individuals and assets in retaliation for any sanctions imposed on Russia.
Mizulina, as you may recall, authored Russia's ban on 'gay propaganda'.
Watch Obama announce the Ukriane sanctions, AFTER THE JUMP...