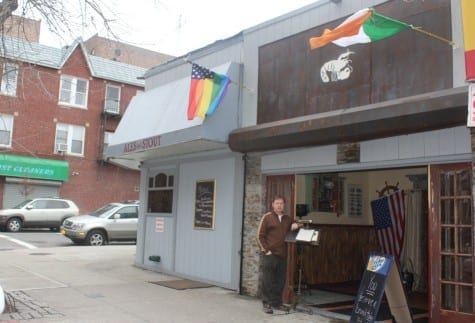 The owner of a Queens restaurant says that he's recently been mailed several odd packages (many gay-related) and has also received a few strange phone calls. According to Mike Murphy, the strange occurrences started soon after he started flying the rainbow flag outside his restaurant, Murphy's Lobster Grill, for St. Pat's for All Parade on March 2.
The Sunnyside Post reports:
The first mailing came on March 10, from a woman called "Amanda." It was a handwritten message on the back of an official St. Pat's for All postcard that read: "Thank you for not breaking my virginity last night but your high wire stunt still needs improvement."

A few days later, a package arrived addressed to Murphy at his bar/restaurant. It included Murphy's business card as well as a number of newspaper clippings featuring gay groups and gay personalities.

A third package arrived with similar material.

"I wouldn't call it hate mail but it's kind of scary," Murphy said. "The scribbled writing is very creepy."
And then there are the phone calls:
Murphy said he has received several anonymous phone calls—from a blocked caller ID—where the caller has just hung up. Murphy said he has not taken the issue up with authorities. He said if he receives another package he will. Meanwhile, the gay pride flag is still up. "There is no reason for me to take it down…my restaurant welcomes everyone."
Take a look at some of the items he's received in the mail so far, AFTER THE JUMP.