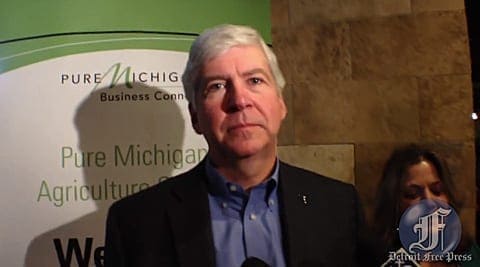 Michigan will not recognize the hundreds of gay marriages performed over the weekend even though it sees them as "legal and valid", Governor Rick Snyder told reporters on Wednesday, the Detroit Free Press reports:
"With respect to the marriages, we believe those are legal and valid marriages...The stay being issued makes it more complicated. Because of the stay, we won't recognize the benefits of the marriage until there's a removal of the stay... Hopefully we'll be able to provide some clarity, at least from our perspective, relatively soon."
The ACLU said yesterday that it would sue if the state decided not to offer benefits to the gay couples married in Michigan over the weekend.
The Governor issued this statement:
"After comprehensive legal review of state law and all recent court rulings, we have concluded that same-sex couples were legally married at county clerk offices in the time period between U.S. District Judge Freidman's ruling and the 6th U. S. Circuit Court of Appeals temporary stay of that ruling.
"In accordance with the law, the U.S. Circuit Court's stay has the effect of suspending the benefits of marriage until further court rulings are issued on this matter. The couples with certificates of marriage from Michigan courthouses last Saturday were legally married and the marriage was valid when entered into. Because the stay brings Michigan law on this issue back into effect, the rights tied to these marriages are suspended until the stay is lifted or Judge Friedman's decision is upheld on appeal."
In another conversation with reporters, Snyder was asked his personal views about marriage, and refused to say what they were.
"I'm not going to go back and rehash a sentence in one debate from four years ago. I've been focused on jobs, it's my main message, and I'm staying consistent with that."
Attorney General Bill Schuette refused to give his personal opinion either.
Watch two clips of the governor and attorney general with reporters, AFTER THE JUMP...