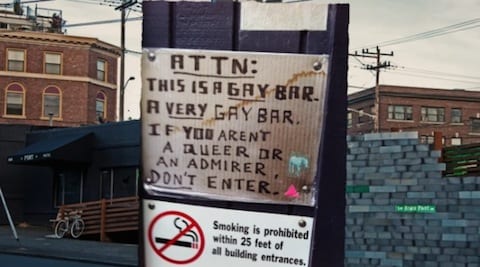 Slate has started a new video series called "Ask A Homo" and for the first outing June Thomas, editor of Outward, fields questions about gay bar etiquette, specifically what should straight people do when they go to gay bars. Her advice, in short, is to not go to bars where you don't belong (this also means gay men should stay out of lesbian bars), but if you absolutely must then stand quietly to the side and just accept any disdain or abuse the waitstaff gives you and be prepared to tip them - and drag queens if you're at a drag show - extra generously as a "tax" for being a straight person in a gay bar.
Less separatist and more tongue-in-cheek advice can be found from both gay and straight perspectives over at Vice and BroBible, respectively.
You can watch "Ask A Homo" AFTER THE JUMP...