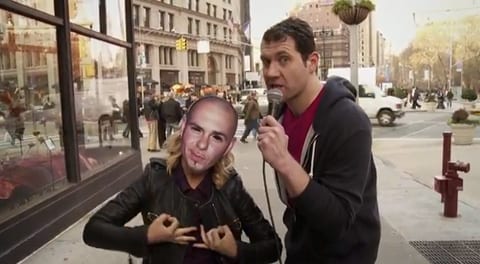 Billy Eichner is the host of Billy on the Street, a comedy pop quiz show on fuse where the titular host accosts New Yorkers with random trivia questions for the chance to win cash prizes, all amidst madcap antics such as destroying a car with Lindsay Lohan or panicking over the end of How I Met Your Mother at strangers while accompanied by Neil Patrick Harris. Despite the show having made it to its third season, an interview on Vulture.com notes that it hasn't gained much traction with gay audiences.
Eichner's thoughts in part on why:
There's still a lack of awareness about the show in certain mainstream circles, and outside of the independently, culturally minded urban gay man, the general gay population is out there watching Bravo, and I'm not on Bravo. I'm actually in the comedy community much more than I am in the gay community at this point in terms of my public persona — I don't mean in my personal life. And I think the comedy community is largely a heterosexual community, although it's getting a little bit more gay.
You can read the interview at Vulture.com and watch a new clip in which Amy Poehler masquerades as Pitbull AFTER THE JUMP...