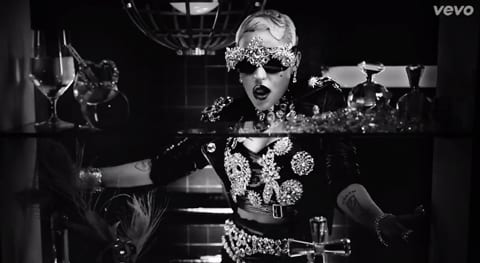 If you've never seen a Brooke Candy video, you are in for a freakishly delightful treat. Candy is an over-the-top rapper who takes the glitz, glamor, sex and violence of gangster rap videos to a ridiculous (and often beautiful) degree.
She recently dropped the Steven Klein-directed video for her song "Opulence" — which may allude to its famous use in the Blatino drag documentary Paris Is Burning — and the vid is as eye-popping as it is insane. In fact, Lady Gaga's own former stylist Nicola Formichetti helped create Candy's look for this dark, diamond-incrusted thrill ride.
Watch, AFTER THE JUMP...
Candy's five-song EP drops this May 5. And if you dig this song, check out Candy's pink-upholstered limo; freakishly long golden press-on nails and quasi-Satanic weed orgy in her earlier song "Das Me."