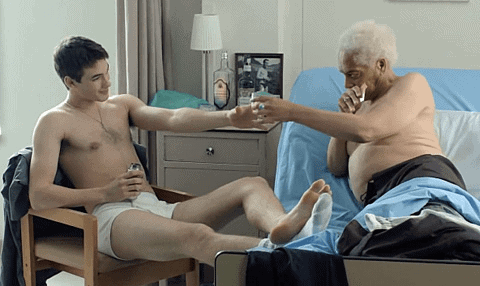 Writer, filmmaker and provocateur Bruce LaBruce has debuted the trailer for his new film, "Gerontophilia," that follows an 18-year old boy, Lake, as he realizes he has a fetish for older men and subsequently takes a job at a retirement home. Once there, Lake falls for the 81-year old Mr. Peabody and breaks him free from the shackles of assisted living once he learns that the facility is purposefully over-medicating their patients. LaBruce told Vocativ.com that the film was inspired by his friend Marcus Ewert, who began a love affair at seventeen with the much older famous Beat poet Allen Ginsberg:
"I liked the notion that, in a way, [Ewert] had sacrificed himself on the altar of these great artists by offering his body and soul to them. But beyond that, I was sure he also found them sexually stimulating because of their wisdom and stature, and also because he felt an empathy for someone in that stage of their life who might not have easy access to the sexual vigor of the youthful and the beautiful."
Read part of Vocativ's interview with LaBruce (which can be found in full HERE) and watch the trailer for "Gerontophilia" along with a clip where Lake and Mr. Peabody play a drunken game of strip poker, AFTER THE JUMP…
INTERVIEW
Tell me about the casting process. How did you go bout finding your two protagonists?
In my script for Gerontophilia, the characters, as written, were 18 and 81, so I really wanted to cast actors pretty much the same age as the characters in order to give the movie a super-gerontophile effect. I cast both actors, 18-year-old Pier-Gabriel Lajoie, who is straight, and 81-year-old Walter Borden, who is gay, through casting agents. PG had a very innocent and sweet and tender quality, which was consistent with his character of Lake. He is also very beautiful, which adds a nice irony to his gerontophilia—he is the ultimate object of desire in a society which overvalues youth and beauty, and yet his sexual choice is for the elderly, who are not considered sexually attractive. Walter is also a very handsome, charismatic man, and I think he's sexy. He proves that elders can be sexy. […]