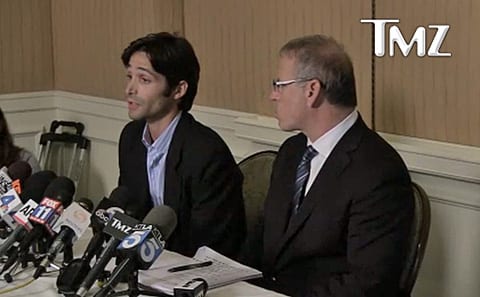 At a press conference with his lawyer Jeff Herman on Thursday, the man accusing Bryan Singer of drugging and raping him when he was 17-years-old told reporters that he had tried to repress the memory following the experience and also turned to drinking.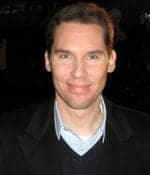 Michael Egan said that he became sober two years ago and entered trauma therapy, which he has been undergoing for 11 months.
Egan tells the story of how he moved to L.A. to pursue acting, went to a private school in the Valley, and met the younger brother of Chad Shackley, one of the men who owned the house in Encino where the parties and assaults took place.
Egan described how he was pulled aside for "threat sessions".
Said Egan:
"At the end of the day if you don't keep the members of this group happy - we control Hollywood - we can eliminate you - we will eliminate you. At the house I had drugs put in drinks, I had liquor poured down my throat. There were rules in the house of no swimsuits, no clothes out by the pool area. I was raped numerous times in that house by numerous individuals. Various types of sexual abuse all throughout that house. You were like a piece of meat to these people and they passed you around between them. If I can define what that house was - it's evil."
Watch, AFTER THE JUMP...
Singer's attorney is fighting back:
"The claims made today about Bryan Singer are completely fabricated. We look forward to our bringing a claim for malicious prosecution against Mr. Egan and his attorney after we prevail. It is obvious that plaintiff's attorney is not looking to litigate the case on its merits. This matter is nothing more than the attorney seeking to get his 15 minutes of fame by sending out a press release with his 'media consultant' yesterday and following up with a press conference today. Attorneys who try cases don't hold press conferences."
According to The Hollywood Reporter, Egan filed a suit over sexual abuse in 2000 but didn't name Singer:
The 2000 suit was filed by several individuals, including one identified as "Michael E, a minor, by and through his guardian ad litem, Bonnie Mound." The plaintiff in the suit filed Wednesday is Michael Egan. The birthday given for "Michael E" would make him 31 today, which is Egan's age.
"It's clear that these statements are fabricated," said Singer's attorney Martin Singer in an interview with The Hollywood Reporter. "If Bryan had done anything wrong, he would have been included in the previous lawsuit."
Egan's lawyer's publicist told THR: "From what I understand, Michael had previously disclosed the allegations against Bryan Singer, and questions about the previous lawsuit involving the DEN people should be directed to the lawyer involved in that suit." ...
...The 2000 suit does not expressly reference the September 1999 party alleged in the more recent suit. Rather, the 2000 suit appears to encompass a period of time that is consistent with and including the 1999 party.
Both the recent lawsuit and the one from 2000 say that the Los Angeles parties were held at a mansion in Encino referred to as the M & C Estate, whose residents were Marc Collins-Rector and Chad Shackley, whose younger brother Scott Shackley was in Egan's high-school class.
Watch Egan's press conference, AFTER THE JUMP...
Meanwhile, Buzzfeed reports that "ABC will re-edit commercials for its new drama Black Box to remove any mention of Singer, the show's executive producer."