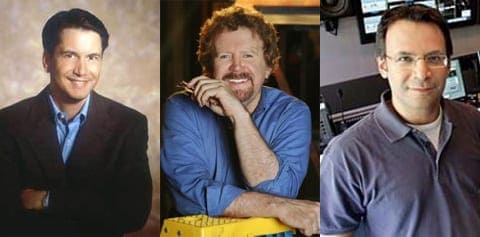 The lawyer representing Michael Egan, who last week accused X-Men Director Bryan Singer of drugging and raping him at 17, has filed three new lawsuits charging entertainment executives in participating in the same "Hollywood sex ring" targeting underage teens, according to The Hollywood Reporter: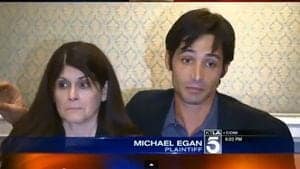 Jeff Herman, the lawyer representing the man accusing Bryan Singer of sexual abuse, announced Monday that he has filed three additional sex abuse lawsuits against prolific TV exec Garth Ancier, former Disney TV president David Neuman and Broadway producer Gary Goddard...
...Herman made the announcement Monday at a press conference at the Four Seasons Hotel in Beverly Hills. The event was attended by plaintiff Michael Egan and his mother, who broke into tears during the conference.
"We've alleged that there's a Hollywood sex ring, one of several sex rings," said Herman.
The suits allege that the three men were part of the same Hollywood sex ring that allegedly involved Singer. Herman says Egan was sexually abused by all three men at a home in Encino, Calif., and in Hawaii, and that force was used. The suit against Goddard includes an allegation of abuse when Egan was 15.
Watch KTLA's report on the allegations, AFTER THE JUMP...
Singer's lawyer says he was not in Hawaii during the time Egan claimed he abused him.
Two of the newly-accused men have responded, according to THR:
UPDATED: The Hollywood Reporter reached out to all three new defendants and/or their representatives. Goddard's attorney Alan Grodin said in an email, "Gary is in China right now and we will have a proper statement in due course but needless to say this is without merit."
Neuman, in five tweets, said "Hey everyone: obviously I have to be talking to and through lawyers, but I just want everyone to know right now that the disgusting allegations made against me are COMPLETELY FALSE. Also very shocking in that they don't just stretch the truth, they are whole-cloth lies with zero basis in reality or truth. Sickening, and very evil, for anyone to lie like that, let alone in a legal document. Stay tuned; I will set the record straight. And thank you to the many friends who have reached out to me with messages of faith and support. I deeply appreciate it."
Ancier has yet to respond.