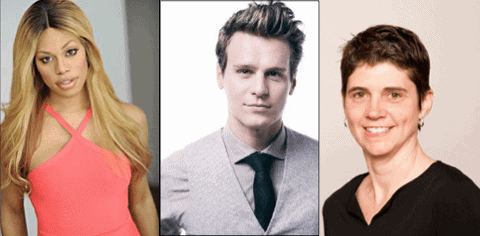 Heritage of Pride, organizers of NYC Pride and the annual New York City Pride March, has revealed the Grand Marshals for 2014's New York City Pride March are trans activist and Orange is the New Black actress Laverne Cox, Rea Carey, Executive Director of the National Gay and Lesbian Task Force, and Broadway, film, and television and Broadway actor Jonathan Groff.
Said March Director David Studinski: "Our 2014 marshals are leaders in brilliant forms of activism through which LGBT people and their allies engage. Individually, they represent the diversity within the LGBT community and the various struggles our community members have and continue to face. Collectively, their stories reinforce that no voice is too small nor weak to make change in our world – and it starts with being yourself."
2014's March will honor the 45th anniversary of the Stonewall Riots with the theme "We Have Won When We're One."
The two-mile march begins in Midtown Manhattan at 36th Street and Fifth Avenue and proceeds down Fifth Avenue to the Village. It begins at noon on Sunday, June 29. Registration for interested groups is open through June 7, subject to availability.