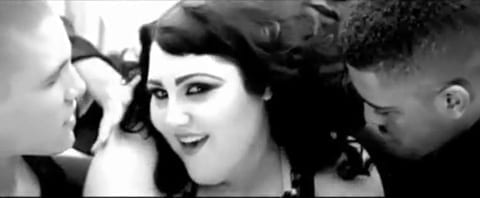 Everything we know about celebrity should dictate that Gossip's frontwoman Beth Ditto should not have made it as far as she has. However, from a small town in Arkansas to the runways of Paris, Ditto has defied what's expected of a woman, a lesbian, a fashionista and, yes, a gay icon.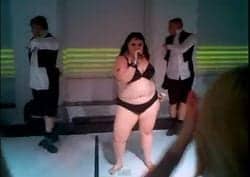 For some in the LGBT community, the outspoken singer is a punk diva alternative to the standard Kylies, Britneys and Katys. Her band's disco-tinged punk tunes, which have only become more pop-driven with time, are riotous anthems. She's famous for her uninhibited live performances, which often feature the plus-sized singer stripped down to her bra and panties. No matter the accolades, she doesn't take herself too seriously, whether she's comparing nipples with Adam Lambert or covering a Dolly Parton song in a blonde wig.
All that spectacle wouldn't mean anything if she couldn't back it up. Her voice can easily switch between gospel smooth and screaming punk snarl, often in the same song. She's a ferocious singer, and one of the most charismatic frontwomen in history.
See some of our favorite highlights of Beth Ditto's career, and share yours,
AFTER THE JUMP …
Formed in 1999, the three founding members of Gossip (then The Gossip) were all originally from Arkansas. The trio moved to Olympia, Washington — ground zero for the riot grrrl movement — and joined with other prominent LGBT-aligned bands like Sleater-Kinney and Le Tigre. They started to see some mainstream success with their 2006 album Standing In the Way of Control, featuring the gay anthem of the same name. (Sample lyrics: "Live your life/Survive the only way that you know.") The album went on to be certified gold in the UK.
The band continued their success overseas. Their next album, 2009's Music For Men, produced a record-breaking single, "Heavy Cross," which spent 82 consecutive weeks within the German Top 100 and reached triple gold status. Their latest album, A Joyful Noise, reached the top five in Austria, Germany and France, as well as number one in Switzerland.
While enjoying increased prominence in Europe, Ditto gained the attention of the fashion industry. She's walked the runway for Jean Paul Gaultier, became the spokesmodel for Donatella Versace's Versus line and appeared on several magazine covers (sometimes naked). She even launched a line of plus-sized fashion for Evans in 2009. See her walk the runway in the foreign news clip, above. 
Ditto released a soulful solo EP (titled simply Beth Ditto EP) in 2011. The video for lead single "I Wrote the Book" is inspired by Madonna (but it's got nothing on Ditto's underwear-clad performance of "Vogue"). In 2012, she released her memoir Coal to Diamonds.
Gossip was one of the artists featured on Cyndi Lauper's inaugural True Colors Tour in 2007. The band was nominated for a GLAAD Media Award in 2010. Ditto married her partner Kristin Ogata last year in Hawaii.
Are you a Ditto fan? What's your favorite Gossip track?