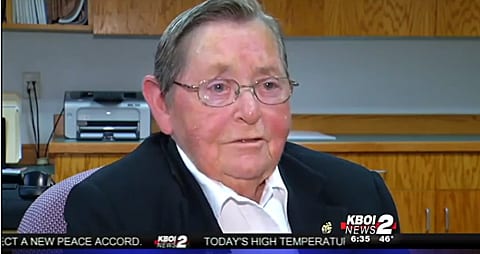 Madelynn Taylor, a 74-year-old U.S. Navy veteran from Boise, Idaho, is speaking out after the Idaho Veterans Cemetery refused her request to be buried with her wife Jean Mixner, who died in 2012, KBOI reports:
She went to the Idaho Veterans Cemetery and asked officials to reserve a spot for interment, along with her partner's ashes. The cemetery allows spouses of veterans to be buried or interred with them.

They said no.

"I'm not surprised." Taylor said. "I've been discriminated against for 70 years, and they might as well discriminate against me in death as well as life."

A spokesperson with the Division of Veterans Services told KBOI 2News that they "have to abide by the Idaho state constitution," which only recognizes marriage between a man and a woman.

"I don't see where the ashes of a couple old lesbians is going to hurt anyone," Taylor said.
Taylor, who served in the Navy for six years, says this is her home state and the only place she wants to be buried, next to her wife, whom she legally married in California in 2008.
Watch KBOI's interview with Taylor, AFTER THE JUMP...