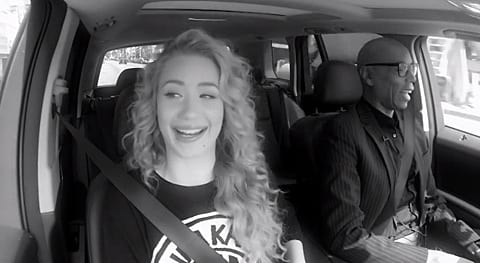 Australian rapper Iggy Azalea sat down for a lengthy interview with PrideSource in which she discussed the music business, the themes in her music, and her relationships with gay people.
Said Azalea:
I know I talk about women a lot, and I think women are beautiful and I like talking about them, but I didn't want people to misconstrue that and think that I was being a fake lesbian. It wasn't a, "Don't think I'm gay," but more so me being like, "Hey, I'm not a fake lesbian." Straight's cool too, you know! It's almost like gay nowadays is so trendy that people want to be gay and then they don't. I'm not gay. I love gay people, but I'm straight. I don't wanna kiss girls. I'm not into girls. I appreciate women, and I like rapping about them, but in case you thought I was a lame person pretending to be gay, um, I'm not...I just hate when people do it to try to be trendy, and I see it so much in songwriting and it's like, you're not even bi-curious! You've probably never even been with a girl in any capacity! But somebody's written this lyric for you and you think it's cool so you're saying it? It's corny and it's lame.
She also took a ride with RuPaul in the latest episode of his in-car interview series.
Check it out as well as her video for "Fancy", AFTER THE JUMP...