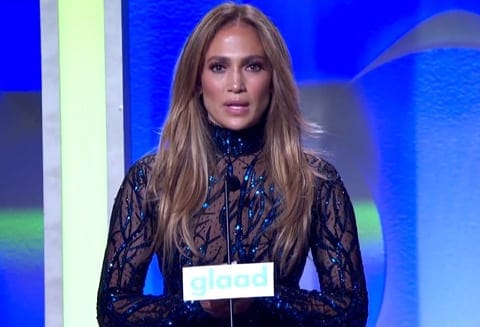 Jennifer Lopez also received a special GLAAD award at the organization's Los Angeles ceremony. Actress and Rita Moreno presented Lopez with the Vanguard Award. Lopez's show The Fosters, was also recognized as Outstanding Drama of the Year.
Lopez spoke about her gay aunt during the speech:
"I've always felt a tremendous love from the LGBT community and the LGBT community has always supported me and returned that love...Marisa was my cool aunt. She was my mom's older sister and she lived in New York City. I lived in the Bronx and she lived in Manhattan, it was like worlds away! She wanted to be an actress and I always wanted to be like her. Marisa grew up gay in a time when it meant life could be very difficult and that her struggles were mostly kept to herself. It wasn't until I got older that I really began to know and appreciate the difficulties she dealt with and the struggles of her community. I also realized the quiet lessons I had learned from my family of tolerance and acceptance."
Watch, AFTER THE JUMP...