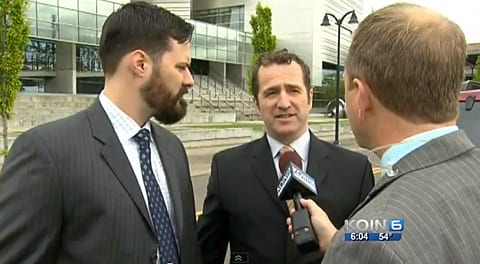 Yesterday, federal judge Michael McShane heard arguments from plaintiffs challenging Oregon's ban on gay marriage, the Statesman Journal reports:
The judge's questions and comments were divided into two categories. The first were legal questions about how he could decide the case in the plaintiffs' favor, and the second group of inquires raised issues brought up in other cases by opponents of same-sex unions.
McShane asked whether he should allow Oregon voters to decide the issue through a proposed ballot initiative in November, saying his decision could tell voters who approved defining marriage as being between one man and one woman in 2004 that "the entire ballot initiative they went through was a hollow exercise."
Sheila Potter, who works for the Oregon Attorney General's Office asked McShane to "take a stand" and say that constitutional rights are not something voters get to give or take away.
"That's the purpose of a right," Potter said. "You don't get to vote on other people's rights."
Watch KOIN's report on the hearing, and interview with the plaintiffs and NOM's John Eastman, AFTER THE JUMP...
The first day the judge could rule in the case is May 14.
More on the details of the questioning here.