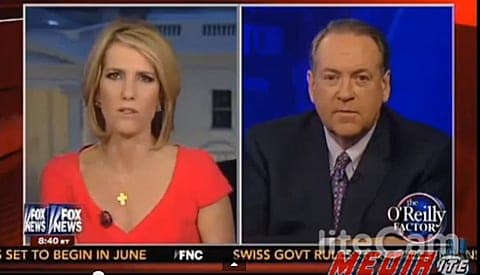 As we reported earlier this week, Mike Huckabee is already back in Iowa banging his drum about marriage, and yesterday he brought his campaign to Laura Ingraham.
The hilarious part: Huckabee still seems to think he's running against Obama, and also still thinks marriage is going to be an issue.
Said Huckabee to Ingraham:
"The position that I hold is the position that Barack Obama, Hillary Clinton, and Joe Biden held in 2008. Barack Obama held it until 2012. And the question now that I'd love to pose to the President is this, 'Mr. President, please explain that when you said in 2008 at the Saddleback Church Forum that you stood for traditional marriage and you did so because you were a Christian and because it's what the Bible taught, please answer. Were you lying then, or are you lying now? Or did the Bible get rewritten. I'm just wanting somebody in the press to answer that honest question....He said it was because of his Christian convictions. Does he have them or does he not?"
Watch, AFTER THE JUMP...