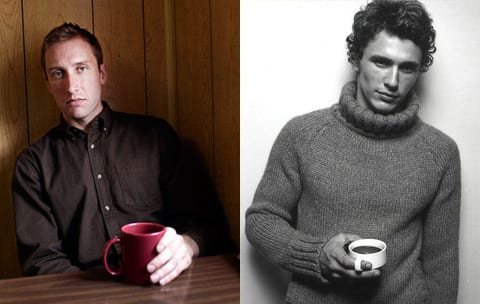 And for comparison, Glatze and Franco holding cups of coffee.
Earlier in April we reported that James Franco had signed on to play Michael Glatze, founder of the (now shuttered) gay twink magazine XY and the short-lived publication Young Gay America who went "ex-gay" and became a poster boy for that movement.
Now from Deadline comes a little more news about that production and what it's based on:
Justin Kelly, a protege of Gus Van Sant, has set a summer start date for Michael, a film that Kelly will direct that will star James Franco. The pic is based on the Benoit Denizet-Lewis article "My Ex-Gay Friend," published in The New York Times Magazine.
Van Sant is exec producing the film with Franco, Vince Jolivette, Scott Reed, Ron Singer and Joel Michaely as producers.
Here is Denizet-Lewis's NYT article if you'd like a refresher.
Take a look at Kelly's director's reel, AFTER THE JUMP...