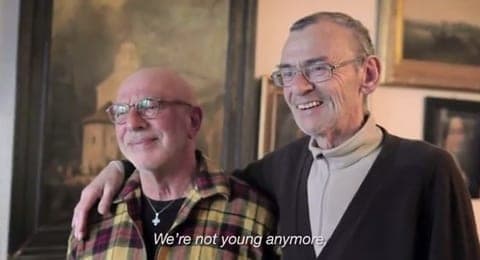 Almost a year ago, Google+, in participation with the same-sex marriage organization "Tous Unis Pour L'Egalite" (or "Together for equality"), released a web ad showing same-sex French couples finallying marry using the organization's help in tandem with Google's video-chatting system, Google Hangouts.
That powerful advertisement just won a 2014 Webby Award, an international award honoring excellence on the Internet:
"...presented by the International Academy of Digital Arts and Sciences (IADAS) — a 1,000+ member judging body that includes Executive Members comprised of leading Web experts, business figures, luminaries, visionaries and creative celebrities, and Associate Members who are former Webby Award Winners and Nominees and other Internet professionals."
The IADAS judging board also includes glass-closeted celeb Kevin Spacey, "closet heterosexual" musician David Bowie and pro-gay media empress Arianna Huffington.
If you haven't seen the ad, watch it. One of the excellent point one of the newlywed spouses makes is, "In these debates we talk a lot about Equality. We talk a lot about Liberty, but not enough about Brotherhood."
Watch the ad AFTER THE JUMP...