Last September we reported that Philadelphia's Giovanni's Room, the nation's oldest LGBT bookstore, was up for sale. Now it looks as though it is closing for good, Philadelphia Gay News reports: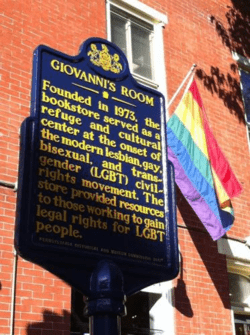 Ed Hermance, who has owned the store for 38 years, announced his plans for retirement in the fall, planning to sell both the business and the two buildings it encompasses. He announced a potential sale agreement several weeks ago, but told PGN this week the buyer could not come up with enough money to finalize the sale.

Hermance said he made the difficult decision to close the store several days ago. Since the beginning of the year, Hermance said he had lost between $10,000-$15,000 in keeping Giovanni's Room open.

He blamed retailers such as Amazon for the tough environment independent bookstores are currently facing.
The bookstore is planning a sale beginning on Wednesday.
The paper adds:
"Hermance had been hoping to sell the business for $100,000 and the buildings for up to $750,000. He said he still intends to give proceeds made from the rental or sale of the buildings to Delaware Valley Legacy Fund upon his death."