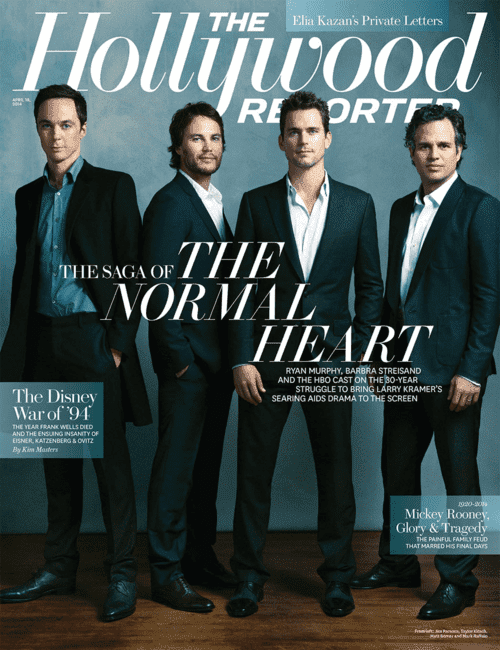 The cast of HBO's adaptation of Larry Kramer's The Normal Heart is starting to do publicity ahead of the film's may bow, and stars Matt Bomer, Mark Ruffalo, Taylor Kitsch, and Jim Parsons took a few moments with The Hollywood Reporter this week for a cover story.
Here's one bit that stands out:
Even as Murphy filmed, the politics of gay rights and same-sex marriage were shifting in profound ways. On June 26, the cast and crew assembled on a set decked out to resemble the Paradise Garage, an early '80s Manhattan disco. Murphy was re-creating "April Showers," the first fundraiser held by Kramer and his friends.
A frail Kramer, his own health in question (he was too ill to be interviewed for this story), was visiting that day. Before Murphy called action on the first shot, an electric jolt ran through the set: The Supreme Court had just issued its landmark ruling in the case of United States v. Windsor, declaring that the Defense of Marriage Act, which barred the federal government from recognizing same-sex marriage, was unconstitutional.
Suddenly, the crowd erupted in celebration. Ebullient, screaming and cheering, the actors milled around Kramer, wanting to applaud, to hug him, to thank him for all he had contributed to the fight. The once-fiery Kramer summoned the strength to tell them, "Today's a triumph, but there's still a lot of work to be done." The moment, says Murphy, "was pretty historical and great." Seconds Taylor Kitsch, who plays a closeted gay politico, "We had a blast that day -- it was the kind of day where we recognized this is why we do what we do, to tell these kind of stories."
In addition to a longer interview, Kitsch also told an amusing story about a pair of vintage jeans he had to wear that needed to have the "crotch elongated", because you know...
Watch the clip, AFTER THE JUMP...
LOL: Matt Bomer and Jim Parsons' faces at the 'crotch elongation' story.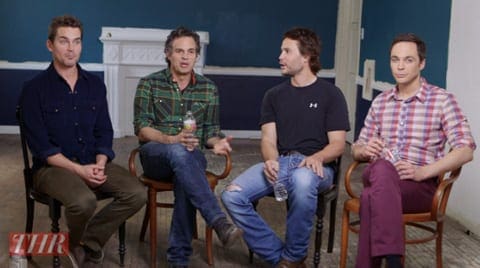 And if you missed the two trailers for the film, catch them HERE and HERE.