According to Blackbook, on May 5th Michael Alig — the gay founder of the 1990s New York Club Kids scene — will get paroled from prison after serving 17 years for the murder and dismemberment of Andre "Angel" Melendez.
The now 47-year-old Alig began serving time on October 24, 1997 after pleading guilty to manslaughter. He and his accomplice Robert Riggs murdered Melendez during an argument over a drug debt. After Riggs hit Melendez with a hammer, the men forced Drano into Melendez's body and put the corpse in a tub filled with ice to prevent its decomposition. A few days later, Alig dismembered the corpse and threw the remains in the garbage and the Hudson River. Alig claims to have been on so many drugs at the time that he does not clearly remember the ordeal.
In 2013, Blackbook said of Alig: "The mixing of his club kids with the ravers, the model crowd, the art crowd, and the hipsters at Tunnel and Palladium looked easy at the time, but is rarely duplicated today."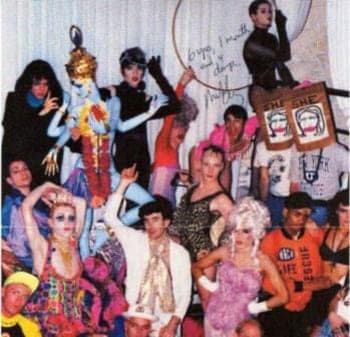 In another 2013 article, Alig's friend Steve Lewis told Blackbook, "[Alig] believed that those who surrounded us were ready to break out into mainstream America. He saw them as the future fashion designers, photographers, artists, stylists, etc." Lewis added that Alig brought current drag luminaries like RuPaul and Lady Bunny into the limelight and that Alig worked as if he were the creative descendant of Andy Warhol.
Lewis most recently told Blackbook about what Alig might do after leaving prison:
"[Alig] will be staying with a close friend, and has been recruited for creative jobs by many. His transition to the real world will be eased by a support group who, for the most part, have stuck by him for more than a decade and a half. Michael has never used a computer or cellphone but he has remained keenly aware of the world we live in. There is no chance that he will return to clubs as a way of life, but he will paint and write, and as always, try to impact the way we think.
… during my visits to him in prison I observed the Michael Alig that I loved—the Alig prior the downfall. I believe he is ready to enter the world, and that reentering will be a good thing. No one, no act, no time, no hatred will bring back Angel, but Michael has served a great deal of his adult life in a bad place. I believe he has been rehabilitated. I believe he is forever remorseful and I look forward to his redux. To those who say nay, I respect that, but hope chances are given, and that we can move on. It is a time to remember Angel and reflect on the meaning of life. For me, forgiveness is part of it."
Alig's rise and fall among the NYC club scene has been examined in the 1998 documentary Party Monster: The Shockumentary, James St. James' 1999 memoir Disco Bloodbath: A Fabulous but True Tale of Murder in Clubland as well as the 2003 movie Party Monster in which Macaulay Culkin played Alig.
You can watch Alig's 1993 interview with Joan Rivers and the trailer for Party Monster AFTER THE JUMP...
Alig's 1993 appearance on The Joan Rivers' Show:
2003 Party Monster trailer: