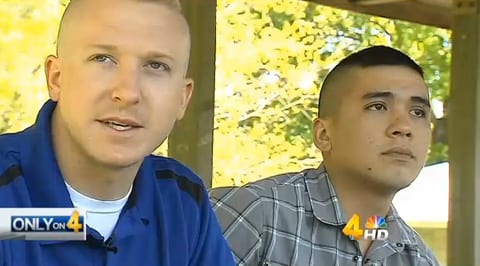 Mint Springs Farm, a private Nolensville, Tennessee wedding venue, told Anthony Wilfert and Brian Blas, Iraq war veterans and a couple of nine years, that they could hold a commitment ceremony there and then canceled on them two days later, WSMV reports:
Wilfert and Brian Blas became a couple nine years ago while serving with Fort Campbell.
"We served under Don't Ask, Don't Tell," said Wilfert.
Looking for a place to hold a commitment ceremony, Wilfert and Blas said an employee took them on a tour of Mint Springs Farm where they believed the rustic charm and fences along winding roads would be the perfect backdrop. The website even says, 'Mint Springs Farm is an all-inclusive venue.'
"I made it clear from the get-go that it was a same-sex ceremony," said Wilfert. "He explicitly made it clear that it was not an issue, that they would host that type of ceremony."
Wilfert and Blas said days after two employees told them it'd be fine to hold their ceremony at the venue, they got an e-mail from an owner at Mint Springs Farm reading, "Unfortunately, until same sex marriage is legal in the state of Tennesse, we cannot participate in this ceremony at our venue. I wish we could help, I truly do, but our hands are tied in this situation."
Watch WSMV's report, AFTER THE JUMP...