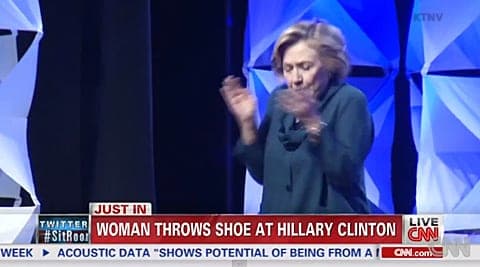 A woman was arrested on Thursday after throwing a shoe at Hillary Clinton during a speech at a metal recycling convention in Las Vegas. The shoe missed, but Clinton was quick to react after initially thinking the object was a bat.
"Is that somebody throwing something at me? Is that part of Cirque de Soleil? My goodness I didn't know solid waste management was so controversial. Thank goodness she didn't play softball like I did."
The Las Vegas Review-Journal reports:
The U.S. Secret Service confirmed the protester had sneaked into the convention and wasn't associated with the group. The convention organizers said she was initially denied access to the ballroom, but later rushed past security.

"The subject was not a ticketed guest and had eluded hotel security to enter the event," said Secret Service spokesman George Ogilvie.

Secret Service agents noticed the woman and as they and hotel security approached her she threw a shoe. The women then turned around, threw her hands into the air and began marching toward the back of the room. The woman was immediately taken into custody by Secret Service and hotel security, Ogilvie said.
Watch video of the incident, AFTER THE JUMP...