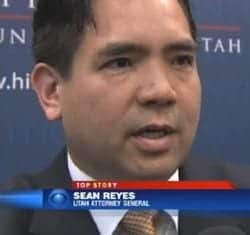 In a timely turn of events, the attorney general race in Utah could be decided by the opposing candidate's views on same-sex marriage, and the government's responsibility to adhere to state laws.
Current AG, Sean Reyes (right), has defended Utah's same-sex marriage ban tooth-and-nail, and is even looking into appealing the recent decision to recognize the marriages performed while the act was briefly legal in the state. Reyes' opponent, Democrat Charles Stormont (bottom left), works under Reyes in the AG's office but has an entirely different outlook.
KUTV reports:
"It's time to stop the fight and leave these families alone and let them enjoy their rights and fundamental freedoms," said Stormont who points to the expense of the legal battle  "Let's stop throwing money at this losing battle," he said feeling confident the nation's highest court will support marriage equality as a fundamental right.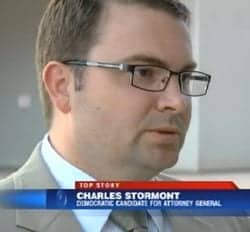 Though it is not a rousing statement of support, Stormont's message makes clear his desire to let the increasingly positive trajectory of same-sex marriage cases in the U.S. take its course in Utah as well. It is worth noting, too, that the appeals process thus far, according to AG spokesperson Missy Larsen, has cost around $400,000.
Unlike Stormont, though, Reyes believes it is his professional duty to uphold the state's laws.
"As Attorney General, I do not have the liberty or luxury of choosing which laws to defend. My sworn duty is to support, obey and defend all the laws of the State of Utah.  I realize Amendment 3 is a highly emotional issue. I know some suggest that you can pick and choose which laws to protect. I fundamentally and professionally disagree. Refusing to defend laws passed democratically by citizens amounts to an improper litigation veto. 
 
Regardless of how one feels personally or politically, the only way to restore trust in the AG's office is to have the AG uphold the law unless that law is deemed unconstitutional by the highest court. The question of constitutionality in this case has yet to be answered."
Here's hoping that Stormont can gain some ground in the race and push Utah toward a vision of equality.
Watch the news story, AFTER THE JUMP...