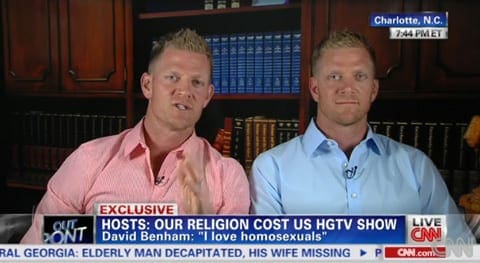 Anti-Gay, anti-Choice, and anti-Muslim extremists David and Jason Benham appeared on CNN yesterday to discuss the cancellation of their show and said they believed HGBT was "bullied" into dumping them:
"We love all people. I love homosexuals. I love Islam, Muslims, and my brother and I would never discriminate. Never have we -- never would we," said David Benham. "Never have I ever spoken against homosexuals, as individuals, and gone against them. I speak about an agenda. And that's really what the point of this is -- is that there is an agenda that is seeking to silence the voices of men and women of faith."
Watch, AFTER THE JUMP...
Previously...
HGTV Cancels Show After Stars Revealed to be Anti-Gay, Anti-Choice, Anti-Muslim Extremists [tlrd]
Benham Bros: 'Anyone Who Suggests We Hate Homosexuals...is Misinformed or Lying' [tlrd]