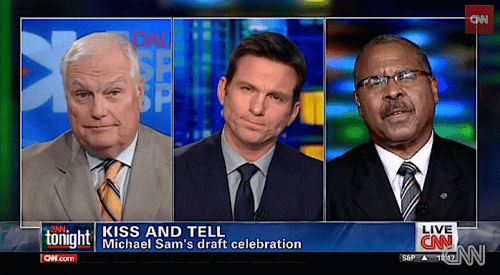 Dallas sports anchor Dale Hansen and Ken Blackwell of the anti-gay hate group Family Research Council appeared on yesterday's CNN Tonight to discuss Michael Sam's emotional reaction to being drafted into the NFL as well as Sam's future prospects with the league.
Hansen, whose February speech in support of Sam went viral, was his usual articulate self while Blackwell went through the FRC talking points of ESPN and Sam trying to advance a homosexual "agenda" by televising Sam's kiss with his boyfriend.
Said Blackwell: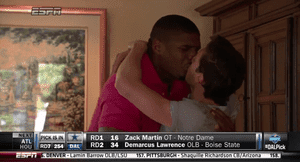 I thought the kiss was inappropriate and over the top, but I am just surprised with the duplicity among owners and leadership of the NFL. I take it it was just a few years ago when there were players who criticized Tim Tebow for wearing his faith on his sleeve. There were folks who basically said he was not a good football player; that's why they were critical of him, not because he was a professed Christian who practiced his faith in all aspects of his life.
I -- I really do question the network's judgment, editorial judgment in putting the kiss on -- on TV. Look, this is a very clear opportunity for Mr. Sam and others to co-op a professional sports, in this case the NFL, as a platform and as a force multiplier for advancing their agenda.
Watch, AFTER THE JUMP...
[via Equality Matters]