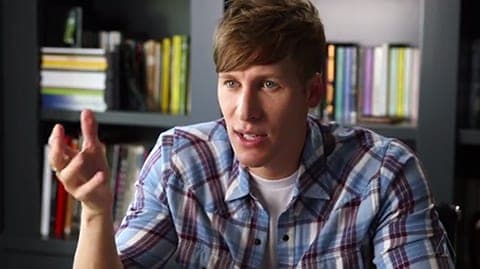 In a video for the Academy of Motion Picture Arts and Sciences Oscar-winning screenwriter Dustin Lance Black opens up about "the creative spark" and what his writing process looks like. For Black, it all starts with figuring out why a story must be told:
Taking an idea, whether it's fiction or non-fiction and figuring out why—not just what you're gonna tell, not that it's entertaining or interesting but why are you telling that story? What is the purpose of that story? For me it's always, how do I move the needle? How do I change the culture?
Anyone who's ever attempted to write anything as substantial as a screenplay will instantly recognize (and maybe shudder) at seeing the copious research Black compiles for each project he works on and all the 'darlings' (scenes, ideas, etc.) he has to kill when putting a story together.  
Black describes writing as an addiction, something he loves and hates but something he ultimately always returns to because he's invested in figuring out the stories that stay with him. 
In a line that could have been cribbed from his own Oscar acceptance speech, Black emphasizes the political impact that storytelling can have: "We make progress by telling our personal stories. The personal story can change the world."
Delve into Black's world, AFTER THE JUMP…