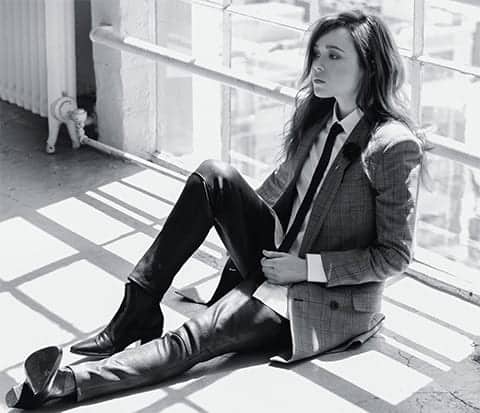 Ellen Page, who memorably came out on Valentine's Day this year, recently spoke with Flare magazine about the coming out process, what life has been like in the wake of her declaration and about her upcoming role in X-Men: Days of Future Past. Though the Academy-Award nominated actress says she had been out to her parents since 19, telling them then that she 'liked-liked' girls, Page admits that not being fully truthful about her sexuality to the public and to others in the entertainment industry, what she calls "lying by omission," weighed on her:
"You think you're in a place where you're all I'm thrilled to be gay, I have no issues about being gay anymore, I don't feel shame about being gay, but you actually do. You're just not fully aware of it. I think I still felt scared about people knowing. I felt awkward around gay people; I felt guilty for not being myself…[But] the more time went by, the more something just happened, an Oh my god—I want to love someone freely and walk down the street and hold my girl-friend's hand."
Page also reflected on the hate-mail she received from a homophobic pastor after she came out: 
"It was the worst kind of homophobia because it wasn't just 'You deserve to burn in hell.' It was 'While God thinks it's lovely that you stood up for your beliefs, perhaps you've never had the loving arms of a father.'"
You'll recall, Page pithily replied to the pastor's remarks on Twitter:
"2 da Pastor who wrote me-Being gay isn't a belief.My soul isnt struggling& I don't want arms of Heavenly Father around me.A girls arms? Yes."
All in all, Page describes her coming out as a lightening of the load and freeing where her work is concerned:
"I feel more creatively inspired than I have in years and I'm sure it has to do with a lot of bricks being taken out of the backpack."
Page also stopped by to talk with Ellen DeGeneres this week about her coming out.
Said DeGeneres: "I am so proud of you for coming out, and I am so happy for you. I know what a scary thing that is."
Watch, AFTER THE JUMP...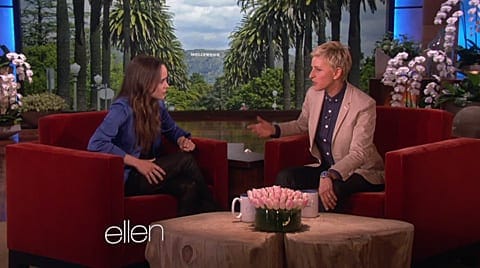 If you enjoyed this post, please consider SHARING it on social media.
Also, please LIKE us on Facebook, and follow us on Twitter, and Instagram.