Dustin Lance Black, the Academy Award winning screenwriter of Milk who last month was un-invited from delivering the commencement speech at his alma mater, Pasadena City College, over the 2009 leak of sexually explicit photos of Black having unprotected sex, has been re-invited to deliver the hallmark address at the school's graduation ceremonies, according to the Pasadena-Star News: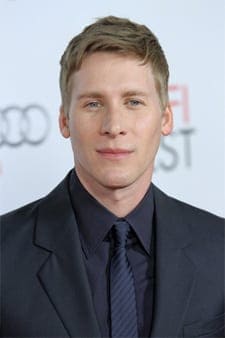 "(Black) has distinguished himself as a film producer and a champion of equal rights and protections for all regardless of sexual orientation," [College President Mark] Rocha read during the meeting [Wednesday night]. "The Board of Trustees and college administration deeply respect Mr. Black, his work and his causes. The Board also sincerely apologizes to Mr. Black for any actions that may have caused hurt."
PCC spokeswoman Valerie Wardlaw said the school has already reached out to Black's representatives to re-invite him to deliver the commencement speech.
Rocha said the Board should retain the seven other candidates on the speaker short list just in case Black now declines to speak.
"If he can't, for any reason, then we will move forward, consult with our colleagues and students and conduct commencement exercise that will be friendly to the graduates.
Previously, Pasadena City College (PCC) Board President Anthony Fellow, referencing two sex scandals that had plagued PCC in recent months, said of the school's original decision to rescind the invitation,
"With the porno professor and the sex scandals we've had on campus this last year, it just didn't seem like the right time for Mr. Black to be the speaker…We'll be on the radio and on television. We just don't want to give PCC a bad name." 
Black responded to being pulled from the commencement event by blasting PCC's decision, declaring "I did nothing wrong and I refuse to be shamed for this any longer." In his response, Black also pointed out that the sexually explicit photos in question were stolen from him, a fact upheld in a court of law. Black also implied his sexual orientation was a motivating factor in the college's decision: "If I was a heterosexual man or woman with this same painful injury in my past, would PCC's Administration still be rescinding such an honor?"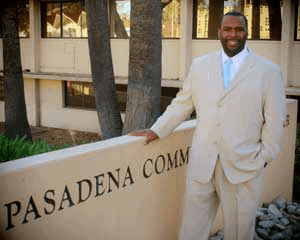 Black's replacement as speaker was set to be Dr. Eric Walsh (pictured left), the Pasadena Director of Public Health. While that seemed an innocuous enough choice at first, it was later revealed that Dr. Walsh is a Seventh-day Adventist who believes, among other things, that, 
"Oprah Winfrey is harboring the spirit of the anti-Christ; Acceptance of homosexuals is a satanic ploy to destroy America; Disney movies, which are loaded with violence, sex and magic, are a satanic ploy to split up families; Darwin's Theory of Evolution is a "satanic belief"; The distribution of condoms to a public in need leads to higher AIDS rates; The pope is the anti-Christ."
This was enough for some to call for Dr. Walsh to not only resign his post as commencement speaker but also, and perhaps more significantly, his post as Public Health Director of Pasadena. An op-ed in the Pasadena Star-News declared that while Walsh has a constitutional right to free speech, 
"[the] prideful, marginalized and wrong-headed nature [of his small-minded creed] can't help but affect Walsh's judgement. It's a belief system that makes Dr. Walsh incredibly unsuited for public service as the city's chief health officer. How can he talk about condom distribution in the community or AIDS prevention when he believes AIDS isn't prevented or slowed by the distribution of prophylactics?" 
The LA Times also points out that Walsh seems to be saving his more radical (and perhaps authentic) self for his Seventh-day Adventist sermons whereas his persona as Director of Public Health is more politically appropriate: "His online bio says he has championed maternal and child health issues, violence prevention and is committed to the 'highest level of care for individuals infected with HIV.'"
It is not yet clear how Black will respond to his re-invitation.
If you enjoyed this post, please consider SHARING it on social media.
Also, please LIKE us on Facebook, and follow us on Twitter, and Instagram.