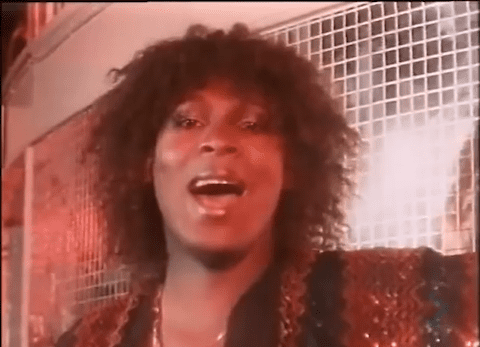 There have been many singers crowned the "Queen of Disco" (Donna Summer and Gloria Gaynor immediately leap to mind), but there are none quite like Sylvester.
With his captivating falsetto, Sylvester's career spanned counter-culture, pop music, disco, drag, Hi-NRG and performance art. He infused his work with San Francisco hippie ethos and a flamboyant sense of style. Sylvester defied characterization, but he oozed authenticity.
"I've never been a crusader, but I've always been honest," he told The Los Angeles Times in 1988. "I may not volunteer details to the media, but I've never believed in lying or denying what I am to anyone."
In addition to being openly gay throughout his career, he also was a vocal activist as the AIDS crisis spread through his community in San Francisco. He became particularly outspoken about the effects of the disease on the black community. Later in that same interview with The Los Angeles Times, he said "The black community is at the bottom of the line when it comes to getting information, even when we've been so hard hit by this disease. I'd like to think that by going public myself with this, I can give other people courage to face it."
Celebrate more of what made Sylvester so special, AFTER THE JUMP ...
Having grown up in Los Angeles, Sylvester moved to San Francisco in the '70s. He became involved with an avant-garde performance art troupe known as the Cockettes, (featured in the documentary previewed above). Though Sylvester briefly lived with the outlandish group of psychedelic drag queens in their commune, he maintained his unique style. While they opted for more outrageous looks and make-up, his performances (which didn't always fit with themes or narrative of the group's work) instead focused on jazz and blues singers like Billie Holiday and Josephine Baker. The Cockettes performed in New York City, but their San Francisco vibe didn't translate to NYC audiences. Sylvester's portions of the show were the exception, and the positive reaction inspired him to leave the group in pursuit of his solo career.
Much could be said about Sylvester's style. He rejected the label "drag queen," (like he does in the clip above with Joan Rivers), but his androgynous appearance was certainly part of his appeal. Even glam rocker David Bowie had said that he wasn't needed in San Francisco because "they've got Sylvester."
After two underperforming albums with his Hot Band, Sylvester found his groove with back-up singers (and fellow gay icons) Martha Wash and Izora Armstead. They dubbed themselves Two Tons o' Fun. The women, who would go on to become The Weather Girls, shared Sylvester's gospel roots.
Sylvester's fourth album, Step II, went gold, spawning hit singles "You Make Me Feel (Mighty Real)" (above) and "Dance (Disco Heat)." His increased profile earned him three Billboard awards and a small part in The Rose, starring Bette Midler. Sandra Bernhard covered "You Make Me Feel (Mighty Real)" on her album Excuses For Bad Behavior, Part One.
Sylvester was a fixture in San Francisco. He performed at the 1980 opening of the Castro Muni station (above), and he was friends with Harvey Milk. His partner, Rick Cranmer, became infected with HIV in 1985, passing away two years later. Sylvester became an AIDS activist up until he died of complications of AIDS in 1988. A few months before his death, the Castro Street Fair was dedicated "A Tribute To Sylvester." Although the singer was too sick to attend, he could hear the cheers from the crowd from his apartment.
Are you a Sylvester fan? What's your favorite Sylvester memory?