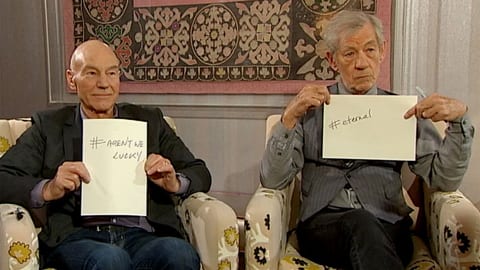 In an interview with the BBC's Channel 4 alongside English actor Patrick Stewart (pictured left), openly gay English actor Sir Ian McKellen (pictured right) compared the mutants in the X-Men movies series to gays, black people and Jews treated harshly by "a society that doesn't completely understand them."
McKellen plays the villain Magneto in the series, a metal bender who fights for mutant liberation from human rule.
McKellen said, "When Bryan Singer asked me to be in these films all those years ago he sold it to me on just this point: as a gay man you can identify with mutants – people who have talents, are remarkable people, but are despised by society as they're different.
"In many areas of the world being gay is still a mutancy which is clearly not tolerated in some societies. You can be put to death for your sexuality. Not in this country," he continued. "We have advanced – it's been one of the great joys of my life – since these films have been made."
He also said of UK political leader Nigel Farage (who recently said that most people over 70 aren't comfortable with homosexuality) "[he] needs to get out more," and praised Eurovision's winner drag queen Conchita Wurst adding that her style probably wouldn't have gotten his vote because "It's not a look I particularly like."
McKellen has said before that he took the X-Men movie role in part for the film's allegory of anti-gay oppression.
When asked what hashtags they would use to describe their bromance, McKellen and Stewart held up the signs in the picture above.
Watch the interview AFTER THE JUMP…