Limited Partnership is a new documentary covering the relationship of Richard Adams and Anthony Sullivan — one of the very first married same-sex couples in the U.S. who filed the first lawsuit against the U.S. government seeking equal treatment for same-sex married couples.
In 1975, there was nothing in the Colorado marriage code that prohibited anyone from marrying two people of the same sex. So during that time Adams married Sullivan, an Australian immigrant, and were one of six same-sex couples to legally wed in the state at the time.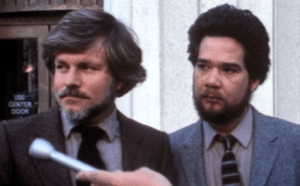 When they applied for Sullivan's green card however, the Immigration and Naturalization Service (INS) denied their petition because they "failed to establish that a bona fide marital relationship can exist between two faggots."
In response, Adams filed a lawsuit against the INS. The men ultimately lost their appeal in the Ninth Circuit Court because the judges ruled that federal immigration statutes did not have to follow any particular state's marriage laws, especially since "marriage" in the INS' eyes typically meant a man and a woman.
Without a green card, Adams and Sullivan left the United States for Europe, leaving behind their friends, family and jobs. They returned to California a year later in 1986, and remained low key until Proposition 8 passed in 2008. Infuriated by their continued mistreatment, both men began talking at rallies, even it risked Sullivan being deported.
Adams died in 2012, and on April 21, 2014 — the date of their 39-year anniversary — Sullivan re-applied for a green card. He continues working as an activist for marriage equality and LGBT immigration rights.
See the trailer AFTER THE JUMP…
"LIMITED PARTNERSHIP" Trailer from Thomas Miller on Vimeo.