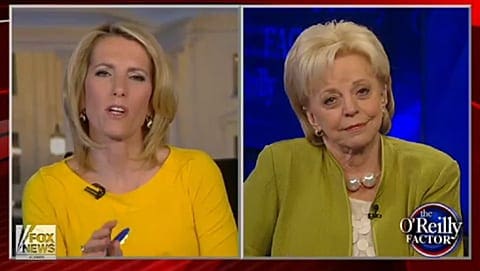 Former Second Lady Lynne Cheney popped over to The O'Reilly Factor to use a book promotion appearance to bash Hillary Clinton on Benghazi. She also suggested that the Clintons are secretly behind the  Vanity Fair story about Monica Lewinsky, in order to get it out of the way before the 2016 elections.
Said Cheney: "Would Vanity Fair publish anything about Monica Lewinsky that Hillary Clinton didn't want in Vanity Fair?"...Seems like a strategy to me, or a tactic perhaps..."
Said Laura Ingraham: "That makes perfect sense! I'm really mad I didn't think of it first!"
Watch, AFTER THE JUMP...