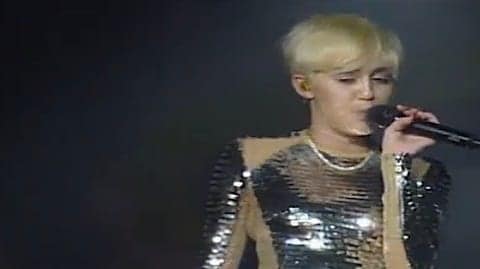 During her performance at the London nightclub G-A-Y this last Friday, shock-rocker Miley Cyrus made a joke about gays and date rape:
"You know, everyone's a little bit gay… It's the truth. Everyone says everyone's gay, all it takes is one cocktail… And if that doesn't work, sprinkle something in their drink. That's what I always do."
Watch, AFTER THE JUMP...
Considering that she manhandled a female little person and pretended to suck on a giant inflatable dong during the show, her date rape joke might have been the least offensive thing.
Daily Dot writer Celeste Mora called Cyrus' joke "tasteless and hurtful" adding:
Miley probably doesn't know this, but a recent review of US studies conducted between 1989 and 2009 found that 43 percent of lesbian, gay, and bi-identified women reported some kind of sexual assault in their lifetime, and 30 percent of gay or bi-identified men. And a review of trans studies in the US showed that half of trans-identified people have been sexually assaulted in their lifetime.
Cyrus has previously shown appreciation for her gay fans by getting a small marriage equality tattoo on her finger and condemning Rick Santorum's anti-gay politics.