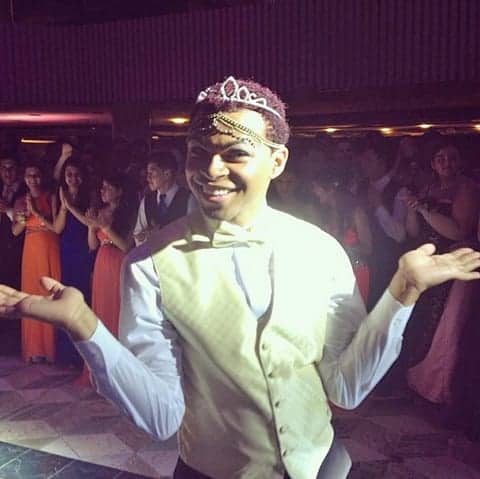 Nasir Fleming - Instagram
17-year-old Danbury High School senior Nasir Fleming was crowned Prom Queen last week in front of hundreds of cheering students in a video posted online.
Watch it, AFTER THE JUMP...
Fleming, who says he was bullied as a child, "wanted to send a message about the absurdity of gender labeling, the toxicity of discrimination and the importance of being yourself" he told the CT Post, and accepted the nomination as queen, and not king. He was nominated for both:
Dattilo said Fleming received, and accepted, the nomination for prom king last year, though he didn't attend the event. She said she wasn't surprised he was nominated for king again this year.

"He's a very likable person," Dattilo said.

His nomination as queen was more of a surprise, and Fleming said he isn't sure about the intent of the students who submitted his name. It might have been a joke about his sexuality, he said, or maybe it was meant positively. Ultimately, he concluded, it doesn't matter.

"Either way, I'm still fabulous," he said.
Said Fleming on his YouTube page:
"Even though I identify as male, winning this title is a statement against transphobia. As gay people, more or less, are becoming accepted in society, transgendered people are still discriminated against severely. If I can win a title that is outside of my gender, there is no reason why a trans-person should have any problems winning titles in his/her gender (Prom Queen, Miss America, etc). Stop the hate, start the love."
Watch the video, AFTER THE JUMP...