With Michael Sam becoming the first openly gay player drafted into the NFL, former NFL player Wade Davis, who publicly came out in 2012, almost a decade after he retired from the sport, is sharing what it was like being a closeted gay black man in the NFL in the early 2000s. In an interview with Al Jazeera America Davis tells how football provided a mask that helped him hide his sexual orientation: "No one ever questioned me as being a gay male because I played football." Davis went on to say that, for him, coming out while he was still an active player was never an option:
It was something that I really never even thought about. I thought that it was not possible for someone to be a gay male and play the sport of football…It was something that I kind of was domesticated to believe from the age of 7 on up, that football and being gay just didn't mix.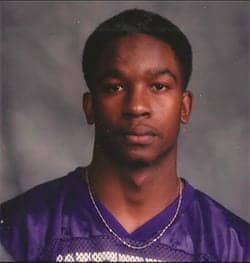 Davis, the Executive Director of the 'You Can Play Project', a group working to support LGBT rights and fight homophobia in sports, recently spoke with league coaches and general managers in the NFL about homophobia and how to tackle problems that could arise from having a gay player in the locker room. For his part, Davis explains that the locker room and in particular the showers never provided him with any difficulties:
Well, first of all, most guys look terrible naked, right? [Laughs.] Secondly, those are my brothers. I tell people often, if you put a man in a locker room with women, there's a chance that he may be excited or aroused. But if those women are his sisters, there is no attraction there.
And so my teammates were my brothers. So, whether they were naked or not didn't really matter to me.
Davis also delved into why being an openly gay football player might be different than being an out individual in other sports:

I think that football is like this sport that we deem as these gladiator superhuman men, right? I think that the way that we view men and masculinity really plays a role in that. So this idea that someone who can be gay and play this hypermasculine sport, people often think that those two things can't coexist. I think that there is shortsightedness in the way that we look at men and also in the way that we look at sports. I do a lot of work with the NFL, and I do say that football is about toughness and masculinity and combat. But there are also even higher levels of family, of solidarity, of compassion that people don't talk about when they think about sports. If you watch a game on Sunday now, as soon as the player gets hurt, you'll see players from both teams come around and start saying a prayer. After a game, win or lose, there are guys who shake hands, they hug. These are gentlemen who exist in a very violent sport, but the love and the passion that they have for the sport and for each other is actually greater than those other aspects of it. 
Perhaps most poignantly, Davis offers some advice to young LGBT athletes: "Don't let the love of your sport overshadow the need to love yourself."
You can watch Parts 1 and 2 of Davis' interview with Al Jazeera America, AFTER THE JUMP…